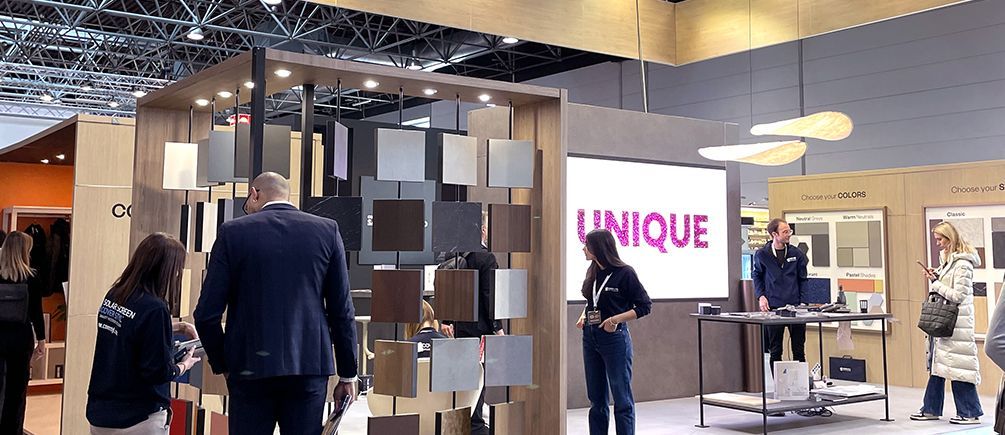 Decorating a trade show stand: our advices for a breathtaking result
March 10, 2023
Our advice for a stand that will help you make an impression
There is no doubt about it, your stand can affect the perception that visitors will have of your company. If your stand is poorly designed or decorated, it may give the impression that the company is unprofessional or cannot afford an attractive stand. On the other hand, a well-designed and decorated stand can help boost your credibility and attract the attention of potential customers.
Here are some steps that we followed and that we advise you to follow for a breathtaking result!
Plan Ahead: Before you start building your stand, make sure you understand your goals for attending the show. Also determine the budget allocated for the creation of your stand.
Take care of the design of your stand: Make sure that your stand attracts the attention of visitors by focusing on a creative and unique concept. Avoid overloading your stand with too much information. Focus on the essential and highlight your main message.
Highlight your product or service: Your stand must communicate your message clearly, so it is important to highlight your product or service. Use screens, demos, or samples to give visitors a better understanding of what you offer.
Create a welcoming space: Make sure your stand is welcoming to visitors. Set up comfortable seating and offer drinks or snacks. Visitors will feel more comfortable and more likely to chat with you.
Decorative adhesive films: the ideal solution for decorating your stands
Decorative adhesive films, also known as adhesive vinyls, are versatile decorative materials that can be used on a variety of surfaces, including walls, floors and furniture. They are easy to apply and remove, making them a practical choice for companies looking to customize their stand without much effort and at reasonable cost. Plus, they are durable and resistant to scratches and fading. This means they can last throughout the trade show without losing their appearance or quality.
By using Cover Styl' adhesive films, you can create an atmosphere that will reflect the values of your company as much as possible. For example, if you are a company of ecological products, you can use green tones and patterns close to nature: wood, natural stone to strengthen your commitment to the environment.
Finally, the decoration of the stand must be consistent with your brand image. If your company has a rather minimalist brand image, to reinforce your branding, you can opt for neutral colors and simple patterns. If, on the contrary, your company has a rather offbeat brand image, you have a wide choice of bright colors, which will best convey your key messages.
As you will have understood, the design of your stand is an essential element for success at a trade show. Decorative adhesive films are a practical and versatile choice to personalize your stand and reinforce your company's brand image. With the right design, you can attract visitors' attention and build successful business relationships for the future.
We hope we have been able to inspire you, but if you need more information, do not hesitate to contact us. Our designer will answer all your questions and will be happy to assist you in designing your stand.