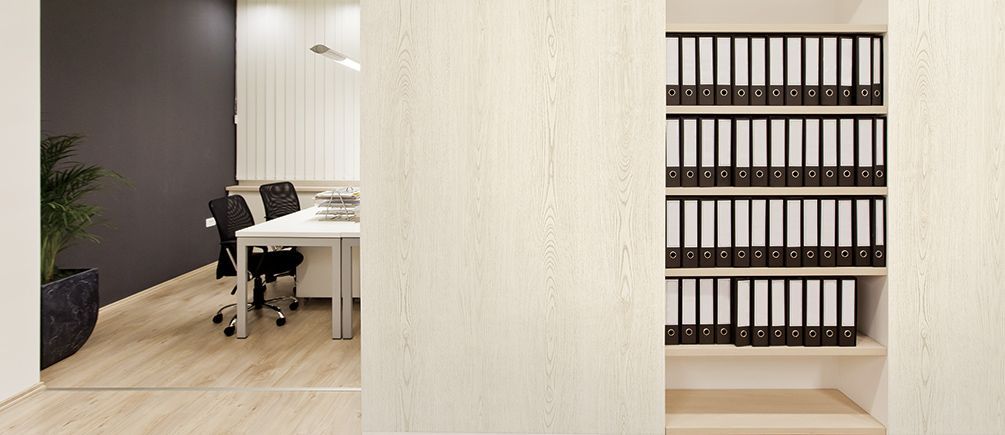 How to use a decorative adhesive in your office?
August 3, 2022
What is a decorative adhesive coating?
It is a film with a self-adhesive side. The coating can come in a variety of forms with different patterns and imitations of materials such as wood, stone, metal or even leather. It can be applied to all surfaces of an interior, except for the floor.
Thus, the walls, furniture and doors of your office can be given a new lease on life in just a few steps with architectural vinyl.
What are the benefits of an office adhesive film?
An adhesive vinyl can be used in all interiors and is very practical if you want to take over the whole decoration of your business without committing to long works.
It can also replace the wall paint of a room. Cover your walls with a solid color adhesive film glossy or matte according to your preferences and save time. No need to apply multiple coats or wait for drying. You can choose a wall film for your office decoration, break room, or conference room...
Any room in your company can be decorated with a wallcovering, as long as you choose a design that matches your corporate image. It is also possible to use adhesive vinyl as furniture stickers, i.e. you can use it to cover a counter, a cupboard, a chair or a table.
Transform your furniture in a few minutes for a new, more trendy, modern and prestigious decoration. A wood effect adhesive film, an imitation marble vinyl or even a glitter vinyl, all decorative moves are allowed.
How to give your office a makeover with a decorative adhesive?
The decoration of your company reflects the values and image of your brand. Thanks to a coating for furniture or walls, you don't need to be a qualified interior designer to imagine a trendy and welcoming decoration.
To do so, select the materials and colors that you like, those that you find engaging and that will put your employees at ease. Your office should be a comfortable and relaxing area for the people who work there. Adhesive wood look upholstery is the best choice when you want designer office furniture. A marble countertop offers class and presence to a room, while a pop colored wall covering can bring more character; ideal for bold start-ups who are not afraid of a challenge. If, however, you prefer to stay classic, cover your walls with white, beige, gray or taupe...
Cover Styl' offers a wide range of adhesive films for offices and companies. Contact us!